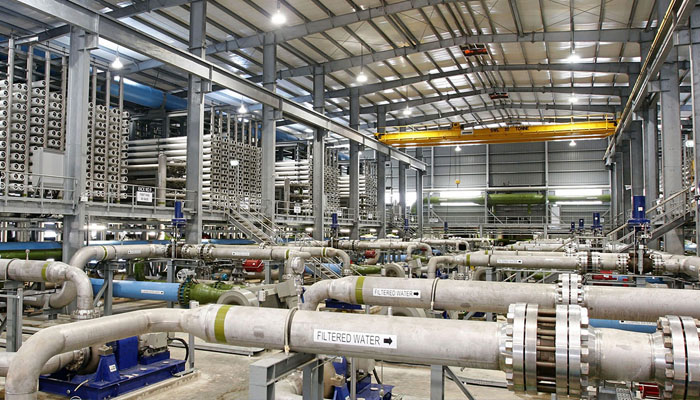 Water Desalination Plants UAE | SWRO
Desalination is the process that separates salts and minerals from saline water. Feedwater sources to our desalination system may include brackish water, seawater, wastewater and water from industrial feed.
Saltwater is desalinated to produce water suitable for human consumption or irrigation. The only by-product of desalination is brine which is concentrated salt water.
Various methods are applied for desalination like electrodialysis, reverse electrodialysis, distillation, multi-stage distillation and reverse osmosis. The most popular and adopted method worldwide is Sea Water Reverse Osmosis (SWRO).
In the SWRO process, the membrane allows desalinated water to pass through while inhibiting the passage of dissolved salts. Applying saline water to the membrane results in a freshwater product stream and a concentrated brine reject stream. Reverse osmosis membranes come in a variety of configurations. Two of the most popular membranes are spiral wound and hollow fine fiber membranes.
Check out our wide range of RO desalination plants below. We provide portable desalination units as well as domestic and industrial desalination plants. We build our system with marine-grade materials with craftsman attention to details. The result is a reliable and long-lasting Sea Water Reverse Osmosis (SWRO) units. We can customize the below desalination plants to meet your specific water requirement.
Our Featured Systems
---
Sea Water RO system
Pre-booster Pump
Pre-filtration
Dosing pump system
Sea water pump
Sea Water RO unit
Energy recovery device
RO booster pump
RO unit
Indicators / Alarm / Auto-control
---
---
Portable Sea Water RO system
Motor : 2 HP
Gasoline : 2T Engine Oil(25:1)
Gear Oil Type : 10W/40W
RO Membrane Housing : FRP-2521-1000P
Control Oil : Regulator
Pressure Guages: Operating Pressure Guage(1000P)
---
---
Brackish Water RO Plant
30,000 - 60,000 gallons per day
Flow rate is 72 m3 at 25oC
RO membane-brand: CSM 8040(400 sqft) x4pcs
RO pressure vessel : FRP(8040x2pcs)
HI-pressure pump : 4kW x 380V x 50Hz (Brand Grundfos).
Flow rate : 5T/hr, lift head : 165M
Pre filter TK 7-20
RO frame by stainless steel welding
All pressure display on main panel
* Also available in 20,000 GPD make
---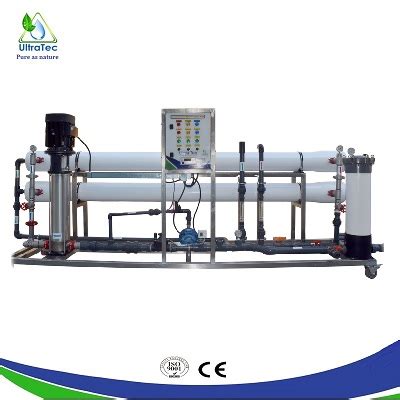 ---
Containerized Sea Water RO Plant
60% reduction in energy consumption as compared to conventional SWRO plant
Pressure Exchanger's energy usage is 3 kW/m3 or 11.4kW/k-gallons
---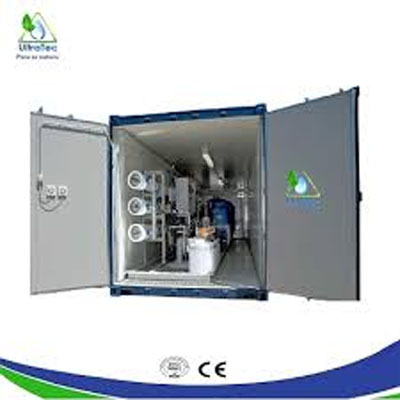 ---
Sea Recovery Water Maker
The Water Maker grants the freedom to manually optimize and configure your system settings according to any water condition.
Capable of producing between 450 - 1,800 GPD (1,703 - 6,814 LPD).
---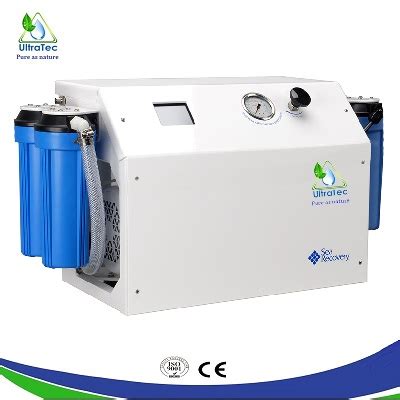 More information
I have a technical problem or support issue I need resolved, who do I email?
To get help with a technical problem or support issue, you can contact UltraTec-UAE at marketing@ultratecuae.com or by phone at +971 50 849 5110 or +971 4 250 6653. Have as much information about your issue ready as possible to help the support team understand and address your problem effectively.
How can a water treatment plant benefit hotels and restaurants?
A water treatment plant can help hotels and restaurants deliver high quality water for various purposes, such as pools, spas, drinking water, and cooking water.A treatment system can also prevent scale formation on appliances such as faucets and shower heads.
Interested in working with Water Engineering?
Our passion is to build sustainable and effective water purification system.