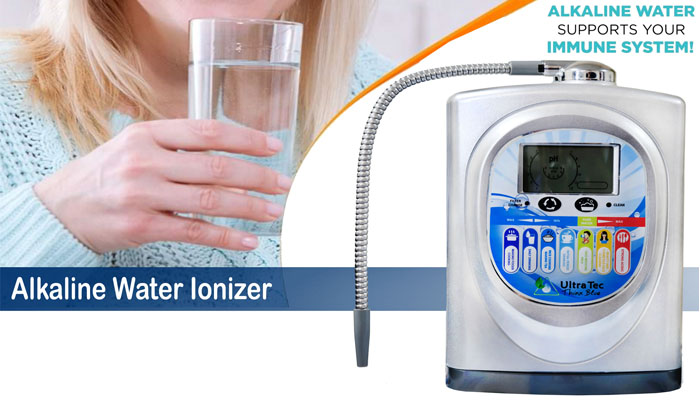 Alkaline Water Ionizer Machine
Water ionizer or alkaline ionizer is an electronic appliance that raises the pH level of drinking water to make it more alkaline. A water ionizer produces two types of ionized water - Ionized Alkaline water and Ionized Acidic Water.
Uses of Ionized Alkaline water : Alkaline water is that which has a pH value higher than 7. Alkaline water is used for health purposes.
Research suggest that drinking alkaline water can help in greater longevity, in other words age gracefully and live longer.
Increased hydration - Studies have shown that alkaline water hydrates our body more effectively.
Reduces acid reflux - alkaline water kills pepsin, which is one of the main causes of acid reflux.
Uses of Ionized Acidic water : Acidic water is that which has a pH value lower than 7.
Acidic water is used as a beauty rinse. An acidic water rinse can improve the health and appearance of your skin by maintaining it's acid mantle. Suggested ph level 5.5 - 6.5
The water helps to sterilize and disinfect teeth if it is regularly used when brushing teeth.
In house cleaning, the water acts as a sterilizing agent, removes dirt and grime, and prevents odor and unseen germs. Suggested ph level 4.5 - 5.5
Our Featured Product
Ultratec Water Ionizer
Durable lifetime Electrode and Ceramic Diaphragm, imported from Japan.
Equipped with current over-flow and over-heat protection design and heat release system
ORP range : -250 to 900 mv
Self cleaning : Unit cleans itself by reversing polarity.
Intuitive backlit LCD
More information
I have a technical problem or support issue I need resolved, who do I email?
To get help with a technical problem or support issue, you can contact UltraTec-UAE at marketing@ultratecuae.com or by phone at +971 50 849 5110 or +971 4 250 6653. Have as much information about your issue ready as possible to help the support team understand and address your problem effectively.
What other services are you compatible with?
A water treatment plant can help hotels and restaurants deliver high quality water for various purposes, such as pools, spas, drinking water, and cooking water.A treatment system can also prevent scale formation on appliances such as faucets and shower heads.
Interested in working with Water Engineering?
Our passion is to build sustainable and effective water purification system.