Water Testing Equipments
Ultratec provides a large variety of water quality testers for your reverse osmosis and water treatment requirements. The prices offered are quite competitive in the worldwide market in addition to the fast shipping and delivery.
Automatic Flush Controller with TDS Meter
Controller is designed to automatically flush the membrane
Avoid any possible bacterial growth
Water quality is always monitored via the built-in TDS meter
---
Total Chlorine/ph Tester
LCD displays pH and Temperature simultaneously
EPA approved DPD method
pH Range: -2.00 ~ 16.00 pH
FCL and TCL Range: 0 ~ 3.50 ppm
Microprocessor based for fast and accurate measurements
---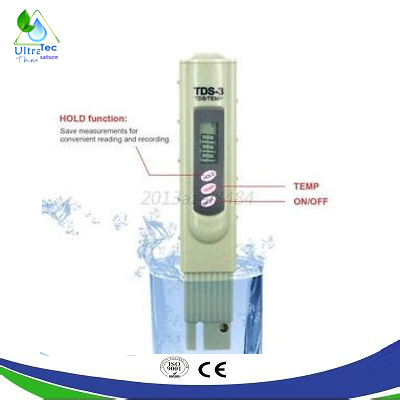 Benefit of Service
Easy to use, economical
Digital LCD Display
Battery Operated
Ideal for use in monitoring EC/TDS in drinking water
---
Inline Digital TDS Meter
Dual In-line TDS Testing meter
Sensor stems fits into 1/4″ John Guest style tee fittings, allowing this tester to be incorporated into most systems.
LCD display in water resistant casing
---
Myron L Ultrameter II
Perform Multiple Measurements with a Single Portable Device
Long Life Internal Electrodes
Easy to Read, 4 digit LED Display
User-replaceable, Long-Life Internal pH and ORP Sensors
---
Multi-Function Pocket Meter pH/mV/Cond/TDS/Salt/Temp
Measuring 5 parameters: pH, Conductivity, TDS, Salinity, and temperature by just one combo electrode.
LCD displays readings and temperature simultaneously.
Rugged design with waterproof housing. It floats on water.
Automatic Temperature Compensation (ATC). °C or °F are switch-able.
---
TDS D2 Water Quality Monitor
Measurement Unit : 1-1000 PPM (1-1999us/cm)
Probe connector: 1/2" MALE x 2 PCS
Power: 110V/60HZ OR 220V/50HZ
---
More information
I have a technical problem or support issue I need resolved, who do I email?
To get help with a technical problem or support issue, you can contact UltraTec-UAE at marketing@ultratecuae.com or by phone at +971 50 849 5110 or +971 4 250 6653. Have as much information about your issue ready as possible to help the support team understand and address your problem effectively.
How can a water treatment plant benefit hotels and restaurants?
A water treatment plant can help hotels and restaurants deliver high quality water for various purposes, such as pools, spas, drinking water, and cooking water.A treatment system can also prevent scale formation on appliances such as faucets and shower heads.
Interested in working with Water Engineering?
Our passion is to build sustainable and effective water purification system.